Moving Beyond Inclusion and the pursuit of progress
Joanne Lyons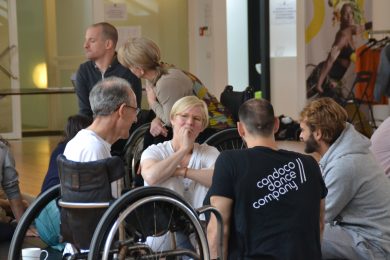 Joanne, General Manager at Candoco Dance Company, looks at dance inclusivity and Candoco's collaboration with international organisations on the project Moving Beyond Inclusion.
"Um… uh … well, err …" my face flushes as I fumble for the right words. Some well-meaning person (often a curious friend) has innocently asked me one of those questions. "So, why contemporary dance?" or "So, why do you work in inclusive dance?" In my 8+ years at Candoco Dance Company I have often found myself explaining what I do, to people who may have no initial contextual framework for contemporary dance, let alone for inclusive dance practice. Both are tricky concepts to explain well, and it is important to me that people really do get it.
With practice, I've become reasonably adept at presenting my case, in the first instance, for contemporary dance and its importance. However, I realise that it is only when my uninitiated friend experiences a real-life dance performance that they will actually start to get it. The impact of a well-conceived, well-delivered production reaches far deeper than words alone. Whether you love it or hate it – it will make you feel something, it will make you think, it will make you appreciate life and human endeavour at least a little – if not a lot – more. It may even cause your preconceptions of dance and human ability to shift somewhat.
It is a similar situation when making my case for inclusive dance practice, i.e. dance with disabled and non-disabled artists. There are two main ways to approach this. Firstly, the social imperative is, I think, clear to most people: for a fair society, all should have equal opportunity to access all areas of life, dance included. We are still a way off from the day when the diversity of society at large is fairly represented in our dance studios and on our main stages. In the UK and around the world, the cultural sector still falls woefully short of ensuring access to dance practice, both for disabled artists and disabled audiences. This 'wrong' needs to be made 'right' and so 'inclusion' has as often become an end in itself, sometimes regardless of the art that is produced as a result.
Secondly, there is the very definite, but less widely recognised, artistic imperative for inclusive arts practice, aka the 'creative case for diversity' (see also Arts Council England's policy of the same name). This finds its basis in the understanding that working inclusively can lead to more exciting, more excellent artistic work for audiences to enjoy. In fact, as Candoco's Artistic Co-Director Stine Nilsen has suggested (in her TedXWarwick talk 'Twisting Perceptions', 2015): the artform itself requires diversity in order to progress and evolve.
As with the first question, no matter how perfectly I may present my case for inclusive dance practice, I realise that my uninitiated friend needs to actually experience a high quality inclusive dance production in the flesh before they really get it.
So, where is all this high quality inclusive dance work that is waiting to be experienced? There, indeed, lies the rub. There is a distinct lack of it.
The case for working inclusively with disabled and non-disabled artists has been made persistently and powerfully by highly respected organisations such as Candoco (UK), Danskompaniet Spinn (SE), tanzfähig (DE), BewegGrund (CH), Oriente Occidente Dance Festival (IT) and the Croatian Institute for Movement and Dance (HR). These six organisations have recently come together as a partnership to deliver the 2-year 'Moving Beyond Inclusion' project. It aims to firmly address the fact that the mainstream dance sector is far from truly representing the diversity of society at large; that opportunities for disabled artists to develop and present their work, and for diverse artists to work together, remain appallingly limited.
Put very simplistically, we have something of a chicken and egg scenario here: disabled role models and those artists or companies working inclusively are decidedly scarce in the mainstream dance sector; as a result there is less ambition raised and limited demand among disabled people to pursue a career in dance; for those that do determine to pursue a vocation in the dance profession, there are very few accessible training and progression routes available, and very few employment opportunities awaiting them after training; therefore fewer disabled dance artists are trained to a professional standard, resulting in a lack of disabled artists – and thus role models – practicing visibly in the mainstream dance sector.
Despite all this, it should also be noted that there is a good amount of excellent inclusive practice taking place around Europe. Some exceptional work is being produced. However, artists and companies working inclusively still struggle to get their work even seen by potential presenters, let alone then programmed at mainstream venues and festivals. There remain a certain amount of prejudice and unfounded assumptions that inclusive practice signals work of a lesser quality.
In response to these issues, Moving Beyond Inclusion aims to:
1) Raise the level of training and ambition for i) disabled dancers and those working inclusively; ii) for choreographers wishing to expand and develop their own practice; iii) for the partners' internal teams in terms of selling and showcasing the work
2) Increase the quality of artistic output, through exclusive choreographic research periods with a range of choreographers and subsequent productions
3) Grow networks and performance opportunities, showcasing the best of inclusive practice to ever-growing audiences, thereby shifting perceptions of what inclusive dance practice can be.
The intention is for Moving Beyond Inclusion to help bring about a sustainable change within the mainstream dance sector. Through up-skilling and connecting a critical mass of artists, organisations and presenters working inclusively at a professional level, we hope to advance the sector as a whole towards the sought-after tipping point. The results of the project should resound long beyond the life of the 2-year programme.
Let's stop fumbling for the right words to explain why we do what we do. Let's create increasingly more opportunities to show what we do and how well we do it. Then presenters, audiences and our uninitiated friends will experience and finally get it.
With the case being made visibly on mainstream stages and festivals throughout Europe and further afield, we may then progress to the day when 'inclusion' isn't only an aim in itself but where it has become the unquestionable context within which top quality dance can be generated and evolve; where diversity is fairly reflected and – as a dance sector at least – we will have finally moved beyond inclusion and can really get down to the art of moving.