Day of Dance 2022
Jen Irons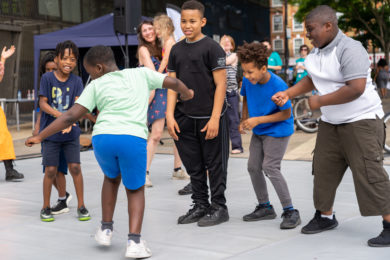 This year's Day of Dance in Peckham Library Square was a joyful celebration of inclusivity.
On Saturday 30 July 2022, Peckham Library Square was filled with people dancing. This was Candoco's second Day of Dance since moving to Mountview and was certainly a day of celebration.
Audience members were able to take part in workshops delivered by professional dance artists. They were also treated to performances by Casson & Friends and AfroVibez as well as the participants from our Burst! Performance Project who performed their freshly created piece A Door Burst Open and… to rapturous audiences.
I hope you enjoy these images taken by Ngozi Ugochukwu, and I look forward to welcoming you to next year's Day of Dance.
With thanks to our partners Mountview and Southwark Presents.