2020, that was the year that was…
Jo Royce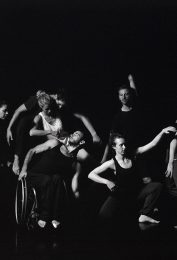 As I sit down to write my yearly festive round-up, I think back to February, when we performed what were to be our only live shows of 2020 in Bristol, Manchester and London.  Little did we know what the year had in store for us.
Rather than reflecting on what might have been, I wanted to share with you – our friends and supporters – the highlights and achievements from a year that was dramatically different to the one we had planned…
In a year of challenges and changes, we want to celebrate:
Welcoming new dancers to the company
Having met at our company auditions in January, we finally welcomed Ben, Anna and Ihsaan in September.  Anna even moved from Australia – during the pandemic – to be with us.  We are so excited to have them as part of our team.  They were joined by our new placement dancer, Anastasia, who will work with us as part of her MA at Northern School of Contemporary Dance.  You can read more about them all here.
We are also thrilled that Candoco Artist, Kat Hawkins, has begun their PhD research in the studio with Candoco. Find out more about Kat's work here.
We did say goodbye to some old friends: company dancers Laura and Nico moved to France to run a dance school in Saint-Etienne, and we said a fond farewell to former Candoco Dancer Dave Toole, who sadly died in October.  You can read our tribute to Dave here.
Moving to Mountview
For the first time in our 29-year history, Candoco's office and studio is now based in the same building – at the wonderful Mountview in Peckham.  Although many of us are still working from home, we are thrilled to be based in Peckham and are exploring a whole range of new activities and partnerships in the building and the borough.
A big thank you to the Mountview team for making us feel so welcome.
Making new work
Thanks to support from the government's Culture Recovery Fund and emergency grants from the Paul Hamlyn Foundation and Esmeé Fairbairn Foundation, we were able to reschedule work that was cancelled as a result of the first lockdown and bring US based choreographer Jeanine Durning into the studio to make a new piece with us.  The return to the studio was not easy, we were working in a socially distanced fashion that meant we all had to rethink and reframe how we relate to each other, but our dancers faced this challenge with their usual ingenuity and creativity and we can't wait to share this new work with you in 2021.  (Watch this space for news…)
We were also excited to undertake creative research in the studio with artists Annie Hanauer and Seke Chimutengwende.  And, with the new virtual world becoming the new normal, we also conducted research by zoom with Alesandra Seutin and Bill Shannon in the US.  We hope to see some of these projects manifest in new pieces in the years to come…
Going digital
We may not have been able to undertake live performances to audiences but that has not stopped our ambition and appetite for sharing our work and thanks to partners at HOME Manchester, Sadler's Wells and the British Council, we have been able to make and share three new online pieces.
As part of the Homemakers series, we commissioned visual artist Jo Bannon to create Absent Tense, an audio essay inspired by and reflecting on the presence of absence in our lives during the first 12 weeks of lockdown.  There is still time to experience this extraordinary meditation on solitude, faith, loss, breath and time passing, which is available here until 31st December 2020.
We were delighted to be invited by Sadler's Wells to be part of Digital Stage in Focus in November, where we streamed our 2015 performance of Let's Talk About Dis, and shared an insight into Candoco company class through an interactive Get Into Dance workshop with dancers Toke, Olivia, Mickaella and Megan.  As part of this collaboration, we co-commissioned a haunting new film, Cuckoo, which was inspired by a bespoke prosthetic leg created by Sophie de Oliveira Barata of The Alternative Limb Project, for dancer Welly O'Brien.  You can watch the film here.  An audio-described version is also available.
We were hugely saddened to cancel the UK premiere of The Argonauts at LIFT in June.  This spectacular piece was developed by Lost Dog's Ben Duke, in collaboration with Candoco Artists Welly O'Brien and Jemima Hoadley, and featured dancers from Armenia, Azerbaijan, Georgia and the Ukraine.  Inspired by Jason and the Argonauts, this dark, funny and moving work explored the effects of war, the temptation for revenge, and how we build our individual and national identities through the stories we tell.  Despite not being able to bring the work to London, the amazing artists involved in the project came together on film to celebrate what might have been.  We hope to have the chance to work with them in future, as well as our partners at LIFT, Southbank Centre and the British Council.  You can watch the film here.
Reconnecting with our Youth Dance and Adult class participants
Having spent the summer in conversation with our participants about what online offering they would like from Candoco's learning programmes, we relaunched our Candoco Youth Dance classes and Adult classes on Zoom in September.  As well as being able to reconnect with our fantastic regular participants, it has been wonderful to meet new people, albeit virtually.
Booking for the spring term is now open, so get in touch now to secure your place.  You can find out more here.
Our incredible team
My final highlight of the year is to celebrate the incredible resilience of our team of dancers, staff and artists who have worked tirelessly to find new ways to make and share our work, to deliver workshops and to engage our audiences and participants.
This has been an unimaginably difficult year for the arts sector and I am so proud and thankful for our team, our partners and our supporters, without whom we would not have been able to achieve the work featured in this review.
Next year is Candoco's 30th Anniversary and as we work through and beyond the devastating effects of this pandemic, we will work hard to build a programme that will continue to expand perceptions of what dance can be and who can do it.
Thank you for being part of our journey this year.  If you would like to find out more about how you can support Candoco, please don't hesitate to get in touch with me on jo@candoco.co.uk or find out more here.
We can't wait to be back onstage and to share more with you in 2021….
With best wishes for the festive season.
Jo
Executive Director