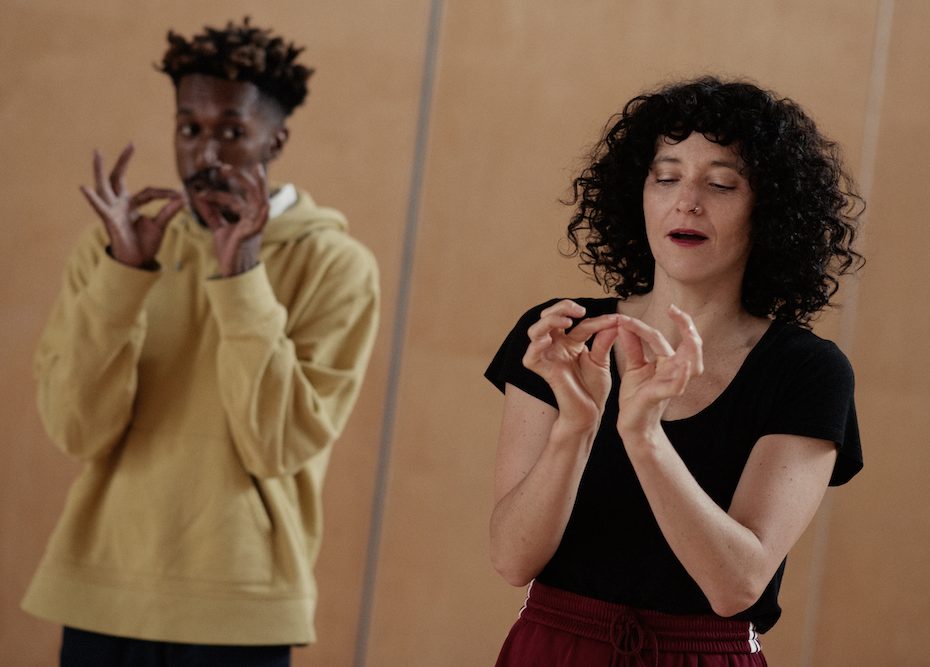 Pre and post-show insight and access content
Ahead of the performance, we invite you to immerse yourself in our pre-show content. Below you will find downloads and films to give you insight into Set and Reset/Reset and Last Shelter and accessible content to support your enjoyment of the evening.
We considered many ways of making the speech in Last Shelter accessible and decided to offer transcripts of each performance to audience members. This approach felt the most cohesive with the artistic process. In the downloads section of this page, you can find transcripts of our most recent performances. The filmed introduction to the double bill for deaf audiences (below) explains more about this approach.
A few days after the performance, please check this page again to view a transcript of the Last Shelter performance that you attended.
We are always looking to improve and enhance our content, please share your feedback with us by email.
An introduction to the sound and access options in Set and Reset/Reset and Last Shelter
(BSL and embedded captions)
Presented by Anna Seymour
Film by Kat Hawkins
Downloads
A guide to Set and Reset/Reset
Learn about the movement, sound and design in Set and Reset/Reset (accessible language and layout)
A guide to Last Shelter
Learn about nonstopping, the idea at the heart of this work (accessible language and layout)
An insight into Last Shelter's sound and music world
An informal conversation between Tian (composer) and Anna (dancer)
Last Shelter transcript, 15 October 2021 (Sadler's Wells)
A capture of the words spoken during the performance of Last Shelter
Last Shelter transcript, 8 October 2021
A capture of the words spoken during this rehearsal run of Last Shelter
Last Shelter transcript, 26 June 2021
A capture of the words spoken during this rehearsal run of Last Shelter
Last Shelter transcript, 2 March 2022
A capture of the words spoken during the performance of Last Shelter at Warwick Arts Centre
Last Shelter transcript, 25 May 2022
A capture of the words spoken during the performance of Last Shelter at Skanes Dans Teater, Malmö
Last Shelter transcript, 29 May 2022
A capture of the words spoken during the performance of Last Shelter at Stora Teatern, Göteborg
Last Shelter transcript, 31 May 2022
A capture of the words spoken during the performance of Last Shelter at Vara Concert Hall
Last Shelter transcript, 17 September 2022
A capture of the words spoken during the performance of Last Shelter at NYU Abu Dhabi
Last Shelter transcript, 19 October 2022
A capture of the words spoken during the performance of Last Shelter at Trinity Laban
Last Shelter transcript, 20 May 2023
A capture of the words spoken during the performance of Last Shelter at Bremen
Last Shelter transcript, 20 June 2023
A capture of the words spoken during the performance of Last Shelter at Independent Dance