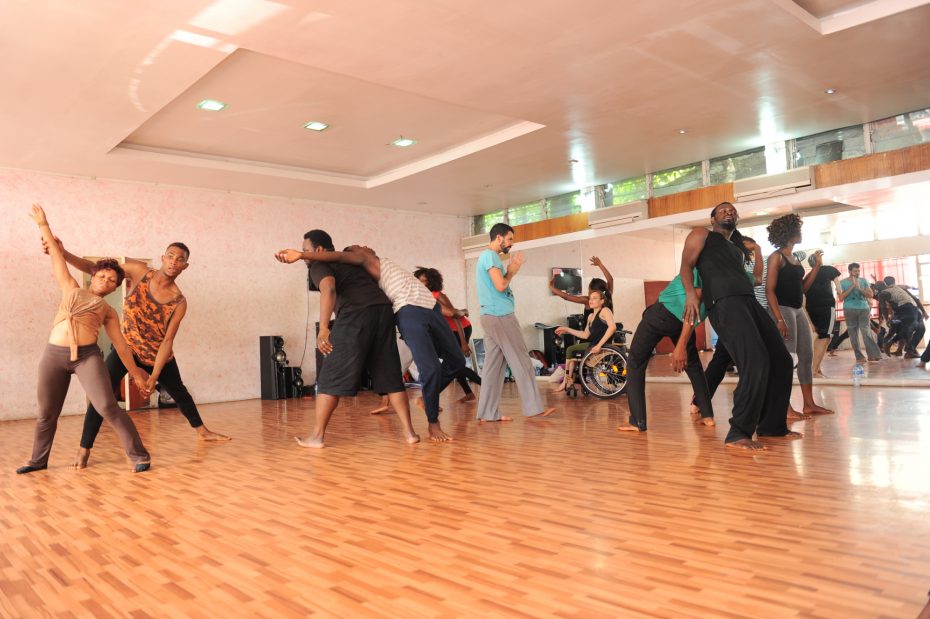 During two visits to Lagos, Nigeria in 2015, Candoco worked to identify and mentor a local choreographer to make a new work with an inclusive cast of disabled and non disabled dancers.
For the company's first visit in May 2015, three Candoco dancers and former Artistic co-Director Pedro Machado engaged Lagos based choreographers in two days of workshops. Following this time of introduction and getting to know the artistic vision and processes of the artists, Qudus Onikeku was invited to make a work to be premiered alongside Candoco later in the year.
The second visit in October 2015 saw Candoco Artists Mirjam Gurtner and Dan Daw and Pedro Machado offer mentoring support to Qudus and Dayo Liadi from Ijodee Dance (another local choreographer who was invited to make a duet for the showcase) and their dancers. Three works were then presented at DisFix; a showcase of disabled and non-disabled artists from Nigeria and the UK at Muri Okunola Park in Lagos. The programme featured Candoco's Studies For C by Javier de Frutos, Qudus' Iwalewa which included 10 dancers and a duet by Dayo Liadi called Ni'Sonilojo.
Dis Fix is a brilliant showcase of Nigerian and British creativity. These performances are the culmination of a hugely innovative project that has promoted inclusivity and excellence across the arts; we are glad that the performances lived up to expectations and more importantly, very glad that people came out to see the performances.