Highlights of 2017
Jo Towler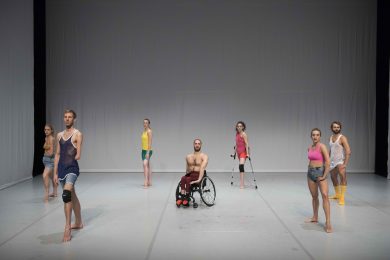 Reflections from Candoco's Executive Director, Jo Towler on 2017- December 19th, 2017
This has been quite a year of change for Candoco Dance Company. We said a very sad farewell to Artistic Co-Directors Stine Nelson and Perdro Machadoas they stepped down from 10 years in the post. Their legacy speaks for itself in terms of how much the profile of the company has increased in the last decade – performing in the Closing Ceremony of the London Paralympics in 2012; our first shows at Sadler's Wells; and increasing our reach with inclusive projects in countries as diverse as Nigeria, Mexico, Armenia and Indonesia.
In January, we are delighted that Charlotte Darbyshire and Ben Wright will be joining us as Artistic Co-Directors. Charlotte was a founder member of Candoco and has since specialised in dance and disability, gaining a reputation as a performer, film-maker, educator and mentor. Ben is a renowned choreographer who has worked in dance, opera and theatre around the world, and is also an experienced teacher who regularly mentors young artists. I am very much looking forward to working with them as we lead the change in thinking about dance and disability.
We have been busy making new work this year with Israeli choreographer Yasmeen Godder. Face In, which premiered at the Oriente Occidente Festival in Italy in September, will have its London premiere on 9 & 10 March 2018 at Sadler's Wells. Yasmeen has created an amazing spectacle, visually striking with a heart pounding soundtrack. The piece will be presented alongside Hetain Patel's Let's Talk About Dis, a humorous exploration of the dancers' personalities and distinctive physicalities.
After meeting Caroline Bowditch many moons ago at a workshop in Australia, we have finally been able to commission her to make a new duet for the company. Performed by former Candoco dancers Victoria Fox and Welly O'Brien, Dedicated to… will be touring internationally and to outdoor UK festivals throughout spring/summer next year.
The company closed the year with a much-anticipated tour of Jerome Bel's The Show Must Go On. Taking Paris and Douai by storm with 9 performances at 4 venues, the cast of 20 performers and 1 DJ received an incredible reception to rival our first acclaimed tour in 2015.
Our youth company, Cando2, continues to reach new heights with projects such as 'The Rhythm of Life', which brings together National Orchestra for All members with around 30 young dancers from across the UK to create new pieces of dance and music in response to the Copland Rodeo Ballet Suite. The work will then be performed in Sheffield in Easter 2018. Cando2 also performed work at The Place in February and Co-Motion at Trinity Laban in May.
The Learning team has not stopped this year with Labs in Armenia, Georgia and Italy, a 3rd project with the Soldier's Arts Academy and much more. Most recently Ellie, our Learning Producer, returned from the East African Nights of Tolerance Festival in Kigali where, with Candoco Artist Tanja Erhart, she led series of workshops and talks at the invitation of the festival and British Council.
2017 has been an impactful year for our ongoing Moving Beyond Inclusion project, co-funded by the EU's Creative Europe Programme. Delivered together with our partners in Sweden, Germany, Switzerland, Croatia and Italy, the project has hosted a horizon-broadening conference, a stimulating international artists' lab, choreographic research periods and various skills exchanges.
Another Creative Europe funded and award-winning project, Un-Label came to an end this autumn. It's been a privilege to be part of the project, working with partners in Greece, Turkey and Germany to explore innovative and inclusive approaches for the performing arts in Europe.
I'll leave you to enjoy the festivities with a thought that has resonated with me recently. Dan Rather, a former anchor of CBS Evening News and author of What Unites Us, wrote:
"We often hear about how we need to be more tolerant: to make room for people, ideas, and actions with which we may not agree. This is a prerequisite for a functional democracy. But tolerance alone is not sufficient; it allows us to accept others without engaging with them, to feel smug and self-satisfied without challenging the boundaries within which too many of us live. A society worthy of our ideals would be a much more inclusive one, a more integrated one."
Thank you for your standing ovations, your generous donations and your kind words of encouragement this year, we look forward to welcoming you at one of our many performances in 2018.