Bringing letters to life
Ashley Crawford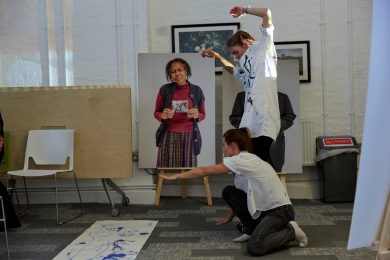 Reflections on our Dancing Letters project from participant Ashley Crawford.
In the age of digital communication, nothing feels quite as cozy as writing or receiving a handwritten letter. For the past two months, Candoco Artists Kimberley, Adam, Andrew, my peers and I, shared the task of combining dance with writing to create "Dancing Letters", an improvisatory dance score that we performed last Friday. Each week, we came together to write letters and choreograph. Some faces were familiar to me from Cando2, while other dancers became new friends. During the first few weeks, we wrote letters to each other, singled out our favourite words, and assigned choreography to them. Although we were working with the same text, I was amazed by how uniquely the dancers interpreted chosen words. Even simple words such as "hello" or "excited" resulted in completely different choreography from each dancer. We then taught our choreography to each other to form what would eventually become a quintet of dancers performing words from our letters.
A personal highlight of the project was reading and dancing to "Hardly One", a letter from publisher Arthur C. Fifield to author Gertrude Stein. Since I play classical music, I was well acquainted with the concept of programmatic art (assigning a specific backstory to the piece) when I began "Dancing Letters", but had never done so in such depth as a dancer. As we had done with our letters to each other, each dancer created her own preset choreography to specific words, only this time, I recited the letter aloud. Many of the words appeared frequently, such as, "only", "one", and "time". Dance and writing are both powerful forms of communication, and it was through bringing the two together that we really brought Fifield's letter off the page to life.
Another rewarding aspect of the project was its improvisatory nature. While the basics of the score were already established, much of the performance was improvised around literary concepts and of course, each other. As a dancer with varying levels of mobility who sometimes needs to translate choreography, I deeply appreciated the flexibility of this project. The score had ample structure and stability, but allowed me to honour the choreography whether I was standing, sitting, or rolling on any given day. The mood of the performance was warm and inviting; we even had the score written out and visible during the performance. Because we wrote or received most of the letters, the choreography came naturally. Adam emphasised to us that we could rely on each other while dancing. We also engaged audience members, inviting them to write alongside us. My friends had never attended anything like "Dancing Letters", and I'm proud that this unconventional combination of visual representation and spoken word was how I could introduce them to Candoco.
Find out more about Dancing Letters in this interview with candoco Associate Artist Kimberley Harvey for Islington Life magazine.