Announcement from Jo, Charlotte & Ben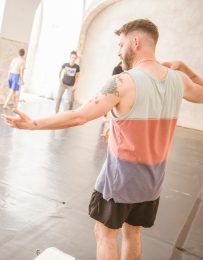 Ben Wright will be stepping down as Candoco Dance Company's Artistic Co-Director in Spring 2020 to pursue his work as an independent dance artist, choreographer and director.
During his tenure, Ben, alongside Artistic Co-Director Charlotte Darbyshire, has developed a range of new partnerships and has co-curated progressive new repertoire for the company, some of which has yet to be announced. Other highlights include securing a collaboration with fashion brand ASOS to deliver a two-week residential training initiative for young disabled and non-disabled dancers, fielding Candoco to be the first contemporary dance company to appear on BBC One's Strictly Come Dancing, and developing a major co-production between Candoco and the Royal Opera. The Lost Thing, a musical reimagining of the short story by Shaun Tan, will be directed by Ben Wright at the Linbury Theatre, Royal Opera House, in December 2019.
Charlotte Darbyshire and Executive Director, Jo Royce, will continue to lead Candoco and are reviewing how Ben's departure could feed into their wider plans to create opportunities for disabled leadership within the organisation as it approaches its 30th Anniversary season in 2021/22.
Ben Wright said: "It has been an honour to be part of Candoco's illustrious history and to contribute to its ongoing story. Over the last two and a half years, together with Charlotte Darbyshire, we have explored the space between mainstream and experimental practice so that we might better ask what dance can be, who gets to take part and why it matters. I sincerely look forward to seeing the fruits of our collaborative work flourish in the years ahead, bringing disabled and non-disabled artists together to support and promote inclusive dance making."
Jo Royce, Executive Director, said: "Charlotte, myself, the Candoco team and Board are incredibly grateful for all that Ben has contributed to the company over the last two and a half years. As a leadership team, we have set a clear vision and strategy for the company which, combined with Ben's energy and ambition, has opened up a number of exciting opportunities for Candoco.Charlotte and myself will build on these plans; expanding perceptions of what dance can be and delivering on our aspiration to increase disabled leadership both within Candoco and the wider sector."