Bessie Award 2022 – Outstanding Revival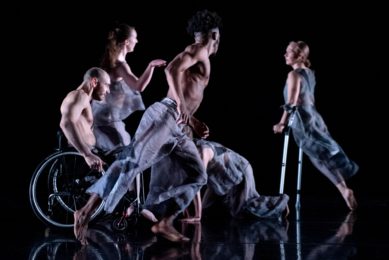 We won a Bessie! The award is for 'Outstanding Revival' for Set and Reset/Reset.
Set and Reset/Reset has become a signature work for Candoco, with different generations of disabled and non-disabled dance artists working on the restaging of this seminal and much-loved work, Set and Reset by Trisha Brown.
It is hard to imagine making Trisha Brown's Set and Reset any 'better' than it already is, and we do not claim to! But we hope that Candoco's Set and Reset/ Reset offers audiences an enhanced experience of the freedom, rigour and play of the original choreography.
In April 2022 Candoco dance artists: Ben Ash, Megan Armishaw, Ihsaan de Banya, Joel Brown, Olivia Edginton, Anna Seymour, and Markéta Stránská performed at BAM (Brooklyn Academy of Music) in New York. 39 years after the original staging of Set and Reset by the Trisha Brown Dance Company (TBDC) in 1983.
Thank you to all who have worked on the re-staging of Set and Reset/Reset, on and off the stage, over the last 10 years! Too many to mention! A special to the passionate transmitters from TBDC: Abby Yager, Jamie Scott and Dianne Madden. And to friend and founder member Eva Karczag. Huge thanks too to David Binder and team (BAM); Catherine Wood (Tate Modern). To artist David Lock (for reimagining the original set), Chahine Yavroyan (for reimagining the original lighting) and Candoco's founding co-Director Celeste Dandeker-Arnold (for reimagining the costumes).
And finally, to Stine Nilsen and Pedro Machado, former Artistic co-Directors of Candoco – who had the original vision of re-imagining Set and Reset through an inclusive lens; and to the whole Candoco team.