Highlights of 2018
Jo Royce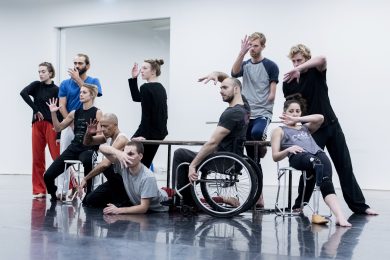 As 2018 draws to a close and I finish my first two months as Executive Director here at Candoco, it feels like a good moment to reflect on a momentous and hugely exciting year…
Reflections from Candoco's Executive Director, Jo Royce- December 17th, 2018
As 2018 draws to a close and I finish my first two months as Executive Director here at Candoco, it feels like a good moment to reflect on a momentous and hugely exciting year…
We have certainly packed a lot in, including; 56 performances in the UK, 20 across the world, 2,000 young people and artists took part in our learning and artist development programmes, we shook up Sunday night television with our appearance on Strictly Come Dancing and of course, we welcomed Charlotte Darbyshire and Ben Wright as the new Artistic Co-Directors of the company.
Here are some of the highlights:
January kicked off with a series of workshops at the Sage, Gateshead. Led by choreographer Fin Walker and composer Ben Park, we brought together Candoco and the Royal Northern Sinfonia, offering workshops to disabled and non-disabled musicians finding ways to work inclusively.
In February we travelled to South Korea, where we performed as part of the 2018 Winter Paralympics Cultural Olympiad. Choreographed by Eun-Me Ahn, Good Morning, Everybody, is a full-length, full company piece, that explores our differences and similarities as humans, and the possibilities that exist within the charged spaces between us.
We were delighted to be invited to perform at the opening celebration of the new Kettle's Yard, Cambridge in March. As part of Actions, an exhibition featuring work by 38 artists, Laila Diallo's site-specific duet sought to reassert the potential of art as a poetic, social and political force in the world.
In April, Cando2 dancers (our youth company) and young musicians from across the UK took part in a joyful collaboration between National Orchestras for All and One Dance UK, resulting in a performance at the Octagon Centre, Sheffield.
Originally premiered at D-Caf festival in Cairo in March, we began UK touring of Dedicated to… a new commission from Caroline Bowditch at Brighton Festival in May. It has since been performed in Birmingham, Greenwich, Salisbury, Winchester and Sadler's Wells.
Our UK touring continued throughout June, with the full company performing our double bill of Face In by Yasmeen Godder and Let's Talk About Dis By Hetain Patel.
Cando2 had the opportunity to "storm the tower" in July as part of East Wall, a major performance piece at the Tower of London led by Hofesh Shechter and featuring over 200 professional and non-professional dancers.
July also saw the launch of Unspoken Spoken, a new film directed and choreographed by Fin Walker and commissioned by The Space. A feature on young dancer Jess Dowdeswell has been watched by over 3 million people through the social media news platform, Upworthy.
In August we welcomed Dog Kennel Hill Project and artists from across the world (from New Zealand to the Ukraine) to spend a week researching, connecting and sharing practice as part of our International Summer Lab.
Moving into September and October, the company began some serious international travel – taking part in Forward Motion (Miami's International Physically Integrated Dance Festival and Conference) performing Face In and Beheld plus getting involved in numerous talks, workshops and conversations with Axis Dance Company and REVolutions Dance. Then, heading to Jakarta for Festival Bebas Batas, performing You and I Know as part of Jakarta's "car free day", as well as working with disabled and non-disabled Indonesian dancers to create a brand new work, performed live with pianist Ananda Sukarlan.
November saw one of our most dramatic "reveals" to date, when we announced our involvement in Strictly Come Dancing. Candoco dancers and the Strictly Pros appeared together for one-night-only in a dazzling piece choreographed by Candoco Patron Arlene Phillips. We all knew that this would be a momentous collaboration but were thrilled with the hugely positive response to our performance.
Which brings us to December, where I must thank you all for your support of our Big Give Christmas Challenge. We raised over £4,700 for Cando2, smashing our original fundraising target and providing much needed support to our programme of activity for young people. Click here to find out how you can support Candoco's work.
I'd like to thank you for being part of the Candoco family this year; as audience members, friends and supporters. 2019 looks to be just as thrilling, with visits to Hong Kong and Hull amongst the first of our destinations! We will be in touch as our touring plans develop so you will be the first to know where and when you can next see Candoco perform.