Across Your Heart
By Emilyn Claid and Candoco Dance Company
1996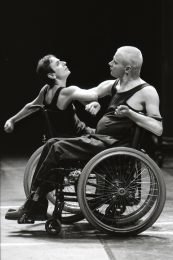 Across Your Heart 1996. Choreography by Emilyn Claid and Candoco Dance Company.
"The first point I want to make is that Across Your Heart has been created by and for this particular group of performers. Although I contributed many initial ideas, it is their personalities, characters, desires, way of life and their day to day commitment and creative energy in the studio that has shaped the piece. My own input comes from an interest in the play of power and pleasure in performance. Of particular concern to me is the edge where power and pleasure collide and the extremity of the clash, flipping from sweetness into horror, worship into obsession, beauty to the grotesque, laughter into tears. Across Your Heart reflects this edge, this play between power and pleasure. It asks the question 'who has the power?' Perhaps it is all an illusion anyway. An image may appear to be recognisable- be 'normal'- but it can quickly turn to reveal a flip side, a dark side, another way of lookng at an apparently straightforward event. 
The music for across Your Heart has also been devised in collaboration. Stuart came in to watch as we worked in the studio, returning the next day with a musical sketch reflecting on his perception of what he had seen. We then worked with this sketch, developing our material according to the stimulation provided by the music and then the whole process would begin again.
The collaborative process led to many variations of style and content within Across your Heart. This has given the piece a provocative structure. For instance, the various dance styles; the energy and moods that abstract movement can offer; moments which reflect personal thoughts and feelings; stark realistic images; surrea, magical, theatrical images, issue-based political sketches, and normal pedestrian action. These styles of performance have been layered together to make a dynamic shape which does not follow a literal line but allows the audience to read and re-read what they wish into the relationships between the images.
Similarly with emotions, you can be amused by dark humour, drawn into a state of grief, shocked by the horror, lulled by the dance and challenged by thought- provoking issues. For me life is like this, like switching the channels on the television. Events can appear choreographed, real, abstract or surreal, theatrica, mundane, political and magical, all within quick succession. As a theatre- going audience, just as in everyday life, I think it is important for us to stay open to this sense of chaos."
Emilyn Claid
Production details
Performed by
Helen Baggett, Celeste Dandeker, Charlotte Darbyshire, Jon French, Kwesi Johnson, Kudlip Singh-Barmi, Sue Smith
Score composed and performedby
Stuart Jones
Costumes designed by
Yvonne Milnes
Lighting designed by
John Henderson
Set designed by
Roger Kitis
Masks made by
Pasty Large
With thanks to
Mgoga Junior, Stella Blair, Chi Roberts, Nadia, Bill Deverson, Bromakin and All at Alliscaff