Fernanda Muñoz-Newsome
Dancer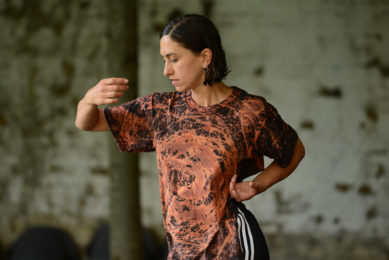 Fernanda Muñoz-Newsome's practices involve dancing, choreography, curation, facilitation and research.
She adopts a collaborative approach within her projects. Her focus in creating immersive works moves from a desire to explore experiential and collective somatic practices with audiences, working with sensorial information, tuning perception and voice work. In her creative practice, Fernanda embraces and values different types of experiences and neurodivergence, which lay the groundwork for challenging traditional performance set-up. She is currently studying Integrative Body Movement Therapy (IBMT) and is a member of the board for Independent Dance (ID).
Her works INCHOATE BUZZ and LET THE BODY toured with CONTINUOUS Network to Nottingham Contemporary (2021) and Tramway, Glasgow (2023). In 2019 she received a Jerwood New Work Fund and curated a Wild Card at Sadlers Wells where INCHOATE BUZZ premiered. In 2021-2022 she received a Live Art Commission from Roberts Institute of Art, making GO GO GO BEYOND. A commission from TBA21 in 2022 went to Cordoba, Spain in An Ocean Without Shores festival. Presenting works at Nottingham Contemporary (2021), ICA (2020), E-Werk Luckenwalde (2019), Block Universe (2019), Sadlers Wells (2019), RIA (2018), Palais de Tokyo (2018), Siobhan Davies Studios (2017), TATE (2017) and Barbican (2015) amongst others.