Dr. Dima Mekdad
Executive Director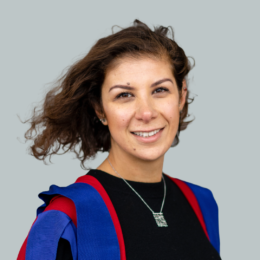 Dima is a versatile individual bringing a unique blend of expertise to the table, from a scientific lens and approach to creative inclusive management style.
Dima has transitioned to Candoco from Shubbak Festival, UK's largest festival of contemporary Arab/SWANA arts & culture. She has a PhD in Analytical Science from King's College London. She used to be a project manager and a researcher at the UK National Measurement Laboratory for over nine years. Dima is the co-founder and former director of Qisetna: Talking Syria. She is also the co-founder and co-director of Zamakan CIC, the umbrella of SACF, London's Syrian Arts & Culture Festival. Dima wears several hats, among them a storyteller, a generative-somatics practitioner and a new writer. Dima is also the Co-Chair of Refugee Week.
As Candoco's new Executive Director, Dima will be responsible for ensuring that the company is operating in an effective manner with a strategic oversight. She will be implementing company wide policies, growing and allocating company resources, overseeing operations and HR.