Dancer Development Day 2018
Lucy Fox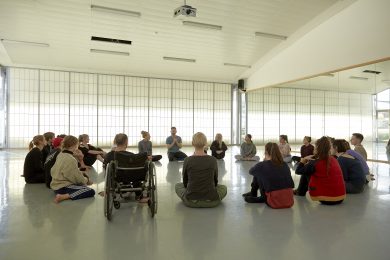 In February, Ben Wright and Charlotte Darbyshire hosted their very first Candoco Dancer Development Day as Artistic Co-Directors at the Davies Studio, Roehampton University.
A Dancer Development Day is a day long workshop that welcomes disabled and non-disabled dancers who wish to learn about Candoco's practice, improve and develop their potential. Participants also become acquainted with some of our Candoco dancers, artists and/or Artistic Co-Directors. It is a great opportunity to exchange with artists from all backgrounds and enhance existing skills as well as gain new ones.
The Candoco team ensures that all participants are included, can engage with each other and have an enjoyable experience and all within a welcoming environment. Participant Kathleen Hawkins was not used to dancing in a large group but instantly felt appreciated, which is something we care about deeply. We want to make sure that everyone is valued and having a fantastic time.
Through the exercises, first with Charlotte and then with Ben, we so quickly built a real unit, and for me this made the connections really easy and satisfying.
Participants are provided with the help and support they need in order to feel comfortable within their own bodies and the group. Kathleen specifically commented on the fact that being encouraged to support each other gave her the opportunity to 'play with weight and speed, which are normally two areas [she] feels more apprehensive about'. From the start to the end, it is important for everyone to know that there is no right or wrong and that every question is worth asking.
I felt free to try new things, and there was space for discussion and thoughts as part of the movement exercises.
Throughout the day, creativity skills and technique are explored through a range of exercises and improvisation tasks. These exercises encourage the dancers to challenge themselves and push their own limits whilst remaining in a safe space.
Both [Artistic Co-Directors] were very gentle, welcoming and motivating. […] They had different, but similar ideas and it challenged me creatively in a very positive way. […] A few creative tasks pushed my physical boundaries and inspired me for future choreographic work.
Each individuals benefit from attending a Dancer Development Day in different ways. Tom mentioned how the element of 'direction' helped him think of new performance and choreographic opportunities whilst the playful and inquisitive aspects of the workshop impacted on Kathleen the most and she will take this away with her and into her own practice.
I loved the exercise around repetition and working partners. We found an object or area in the room and had to keep going with the idea until our partner told us to change. To have somebody else deciding […], was so good for me as it removed any questioning in my mind about what felt right, and meant that I pushed a certain movement more than I normally would, taking me outside of my comfort zone. […] It also gave me a really nice moment when I was able to watch my partner do the same.
Our work approach is inclusive. During the day, we treasure the opportunity to learn from each other as a group, whether a participant or a Candoco team member, we structure the sessions to allow everybody to feel motivated by the group's diversity and inspire others with no fear of being judged.
It was very special to me to work with disabled dancers and learn further how to engage with them, support them and get inspired by them.
[Being] in such a free and trusting space meant that any apprehensions of my prosthetic legs getting in the way, or hitting somebody, or how I looked, were removed.
Tom teaches inclusive practice in Scotland and highlighted how much he enjoyed participating and being part of such a varied group. As an inclusive company we strongly believe that diversity is a strength that leads to many more artistic possibilities. We constantly strive to question the notion of what dance can be and who can dance. The dancers we work with play a strong role in this and we really want them to feel valued for who they are and what they bring to the world of dance.
[M]ost importantly for me it has given me more appreciation for the human body, and different bodies, and how important inclusion is. As a disabled body in a dance space it's often hard not to reflect on what I can't do, or to feel insecurities about my body, but there was none of that, only a sense that nothing is a wrong choice, and all bodies are interesting. So for that, and so much more, it was an invaluable day.
We host Dancer Development Day throughout the year. If this might something of interest, you can join our mailing list and we will keep you posted about this and other future learning opportunities.
If you have any questions, please get in touch with us at info@candoco.co.uk and we will be pleased to help.