Remembering Anthony Crickmay
Candoco Dance Company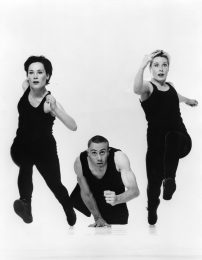 We are so sad to hear of the death of renowned photographer Anthony Crickmay and deeply grateful for the generous part he played in the development of Candoco's profile and career.
As a dear friend of Candoco co-founder and former Artistic Director Celeste Dandeker-Arnold OBE, Anthony photographed the company repeatedly during the early years. His stunning photographs helped shift public perception of Candoco and position the company at the forefront of contemporary dance. Today, those photographs play an important part in dance history.
Charlotte Darbyshire, shares her memories of working with Anthony as a Candoco founder dancer.
I have such fond and exciting memories of us all being together in his studio. There was something about his pristine space, his gentle but focussed energy and particular way of seeing and centring us that made me more conscious of the significance of what we were doing and how lucky we were to be doing it."