Let's get technical
Kimberley Harvey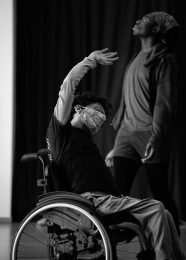 Kimberley Harvey, Candoco's Director of the Youth Dance Programme, writes about her experience of technical training as a dance artist, performer and facilitator and how perceptions of technique and its application in an inclusive environment continue to evolve.
Last month, Tim Casson (Candoco's Creative Learning Producer) and I  were invited to Northern Ballet to deliver a series of dance workshops for various groups of disabled and non-disabled participants as part of 'Expressions'. In addition, we led a CPD session for people interested in learning more about Candoco's approach to inclusive teaching practice and we were also part of the SHIFTing Perceptions conference too. As you can probably tell, it was quite a busy week!
The SHIFTing Perceptions conference was poignant for Northern Ballet as they were sharing their research from the SHIFT Programme, which was designed specifically to look at how dancers with additional learning support needs can engage in a technical training that is responsive to their needs and emphasises safe practice and building awareness around individual bodily make-up.
As well as my role within Candoco, I am also a dance artist, performer and facilitator. 
I am a firm believer that technique is an essential component for any dancer within their training (whatever that might look like for them). From my point of view, technical training is about deepening your understanding of your own body and how you move; it's about building and refining a range of possibilities and skills to enable a dancer to work efficiently and safely. Dancers develop an embodied knowledge which then allows them to make conscious choices. This skill-building and awareness lays the foundations that can then be applied to all the work they do as a dancer. 
I remember the power of this during my own training. As a disabled dancer, part of my training was on the year-long Candoco Foundation Course (2007/08). During this period, as well as dancing in my wheelchair, I got to explore movement out of my wheelchair as well. This was a new adventure as it was the first time I had been able to experience my body on the floor in years. Therefore, the learning was immense!
In my experience, this process of translation, exploration and honing within technique is non-linear and constant throughout my own technical training, but also in my teaching of it.
My experiences have shown me that, often, in settings that work with disabled and non-disabled dancers together, technique is dismissed as insignificant or irrelevant and instead, the focus is wholly on creative work. Personally, I have difficulty with this as it seems that technique is seen as not being 'applicable' for these individuals. It also suggests that technical work is not creative and that there is a limited number of ways that it can be taught.
Technical considerations are the underpinning of a Candoco workshop and during our time at Northern Ballet was no exception. We worked with key principles and specificity to allow individuals to access different movement ideas and insights from the different works of the company. In these sessions we were also able to look at the technical elements of improvisational work and we began to reintroduce performance skills, which was an absolute pleasure to do after this last year and a half of pandemic-life!
As always, curiosity and working responsively and in-dialogue with the individuals in front of you feels crucial and, in terms of technique, this is what will allow the perceptions of technical work and application to continue to evolve.
Thank you to all the groups that came and danced with us both online and person!
Groups we worked with:
Tailfeather
Beaumont College
DAZL
Mind The Gap
MESH Dance and Ability
Dance Syndrome
Lifelines
Audio recording of this Journal entry: