Saying goodbye to Laura Patay and Nico Vendange
Laura Patay and Nico Vendange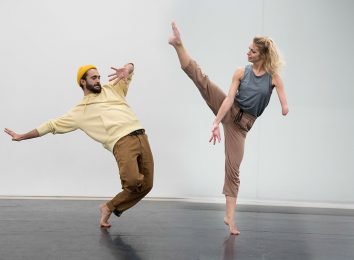 Six years ago, Laura Patay joined Candoco Dance Company. Three years later, partner Nico Vendange joined too. Now, the duo are heading onto new adventures and saying their goodbyes to Candoco Dance Company. In this journal, they share their best moments with the company and what they've learnt.
Nico
How has your experience of working with Candoco Dance Company helped you develop as a dance artist?
Candoco helped me to discover different ways and approaches to what movement can be.
I have experienced really different making and role development processes; going from physical theatre in Face In to the neo-classical Beheld, improvisation pieces such as Hot Mess and minimalist settings like The Show Must Go On has been really inspiring.
Being flexible and versatile improved every way of me being an artist and a performer. Taking away some of my habits, sharpening my conception of what dance can be, and allowing myself to be spontaneous.
Working in an inclusive environment helped me to understand people's possibilities and needs. I have learned different ways of teaching movement, of sharing a choreography with a different body to mine and being open to change.
The 7 dancers in the company are really unique and all of them bring a different vision and approach of what dance is. This diverse mix drives the group in different directions and confrontations and that made my experience fuller and more real.
But the main thing I've learned is beyond skills and techniques it's real friendship with the people I've worked with, in such proximity, without judgement, openminded and committed to the art.
What is the greatest gift from Candoco you'll take with you?
I will forever keep the memories of traveling around the world, discovering different cultures, and the feeling that we are part of a bigger picture.
What do you feel you brought to Candoco?
During this time with the company, I shared my vision of movement, bringing together all the practices and knowledge I've learned before and during my career.
From a very young age, I've always been passionate about street art, skateboarding, and parkour. I've been lucky to share those influences with the company.
What have been your personal highlights of working with Candoco? And please share one unforgettable experience or memory.
My personal highlight of working with Candoco has been to work side by side with my wife Laura.
We had the chance to make, create, and dance together.
Working together was a great opportunity that we both embraced and we helped one another to build ourselves artistically.
A great memory comes back to May 2018 when the duet You and I Know by Arlene Philips was touring in France in my hometown Saint-Etienne.
Watching Joel and Laura performing the duet in the city I grew up in was very emotional and I felt a real sense of accomplishment.
My unforgettable memory comes back to last year when the company came to Saint-Etienne under a different context: Laura and my wedding.
In your opinion what would you say that Candoco is best at?
I believe Candoco is the best example of what an inclusive company can be, challenging the perception of what dance is, cultivating differences as strengths, and giving the world a vision on what inclusion means.
Laura
How did you first come into contact with Candoco? What did this mean for you as a dancer?
The first time I met Candoco Dance Company was at my audition in April 2014. That's the first time I was moving in the studio with the company. Before that, I saw Candoco perform in 1998 in Lyon – France, in my city. Both meetings meant a lot to me. But being in the studio and moving with the dancers has been so special… I found so much generosity, curiosity, and playfulness that I was sure I wanted to be part of the company one day. And from that day, my six years of experience with the company have been life-changing, an unforgettable experience…
What have been your personal highlights of working with Candoco? And please share one unforgettable experience or memory. 
My personal highlights…
Trust has been the first one. I've learned a lot about myself, specifically to trust myself.
Confidence has been the second one. I found enough trust and confidence in myself to try, to test, to play, to take risks, to fail and to try again, and to be curious. The more I was finding space to play and experience new things, the more I became curious.
The third one is maturity. I found maturity in my decision making over my time with the company. For example when we are researching and experiencing in improv specifically, where we're thinking about the content rather than the result.  As Jeanine Durning says: 'Go before you're ready'.
So my last and favourite personal highlight is: playfulness! Play is what I did during my 6 years with the company! Something that I had lost or forgotten during most of my training. It's been so liberating to find it again! It started in July 2014, working with Hetain Patel. The whole experience changed my whole idea and perception of working as a dancer. It offered me tools that I re-used to work in a sometimes less playful environment. Finding a way to constantly feed myself as an artist and stay curious became the most important during my time with the company. And to do so, I've been lucky to collaborate with some amazing artists. My colleagues contributed strongly to my learning. They have been the best people to play with. Together we experienced, ugliness, naughtiness, seriousness, happiness, sadness, doubt, we took risks, we succeeded, we failed, we tried, we cried, and we laughed A LOT…
An unforgettable memory? I've got so many… So many that I can't share!
My 6 years with the company is my memory. And choosing one would be reducing the others… The whole touring experience is unforgettable, and my friendship with the last Candoco cast is also unforgettable. From being my collaborators, they became my friends and my family.
What is the main learning you will take forward into your future endeavours?
To trust and believe in myself. Even though, doubting is always part of the game…
What would you say is unique to Candoco's work or way of working?
By being a rep company Candoco has a particular way of working, which is unique and has opened up a lot of my curiosity.  We work with choreographers to be curious and investigate, making a piece in 8 weeks.  I found the first few days always the most exciting and challenging part.  Getting to know each other, knowing that a piece would emerge from a new relationship.  And then when the piece was made, I found it exciting having to jump from one piece to another, as the rep is often a double bill. 
I've always found the making very inspiring. A new concept, new ideas, new ways to move where I could surprise and challenge myself again! But also because it meant a new tour! The touring has probably been the most stimulating bit for me. Challenging too, as I had to learn to adapt myself to new situations. My teaching has also evolved a lot. I loved having to question my teaching to adapt it to a new situation.
Drawing upon your years of experience with Candoco, what would you say are Candoco's biggest achievements, and what in your opinion, still needs to be done? 
For me, one of Candoco's achievement is the spirit of the company.
Throughout my 6 years with the company, I always felt care, kindness, and generosity from the whole company. And that's also something a lot of participants were reporting to me. Something that they could feel during our performances as well as in the workshops. 
Candoco is also a company that is very accessible to anybody. It is so rare that the company is opening its doors to anyone through workshops, open classes, Q&A's, Teacher Training Intensive's etc,… Of course, there are things that need to be done but I know that it's already happening. I trust the new generation to continue challenging what dance can be and who can do it. We need to still push, question and challenge the boundaries when society is cutting across the involvement of contemporary art.