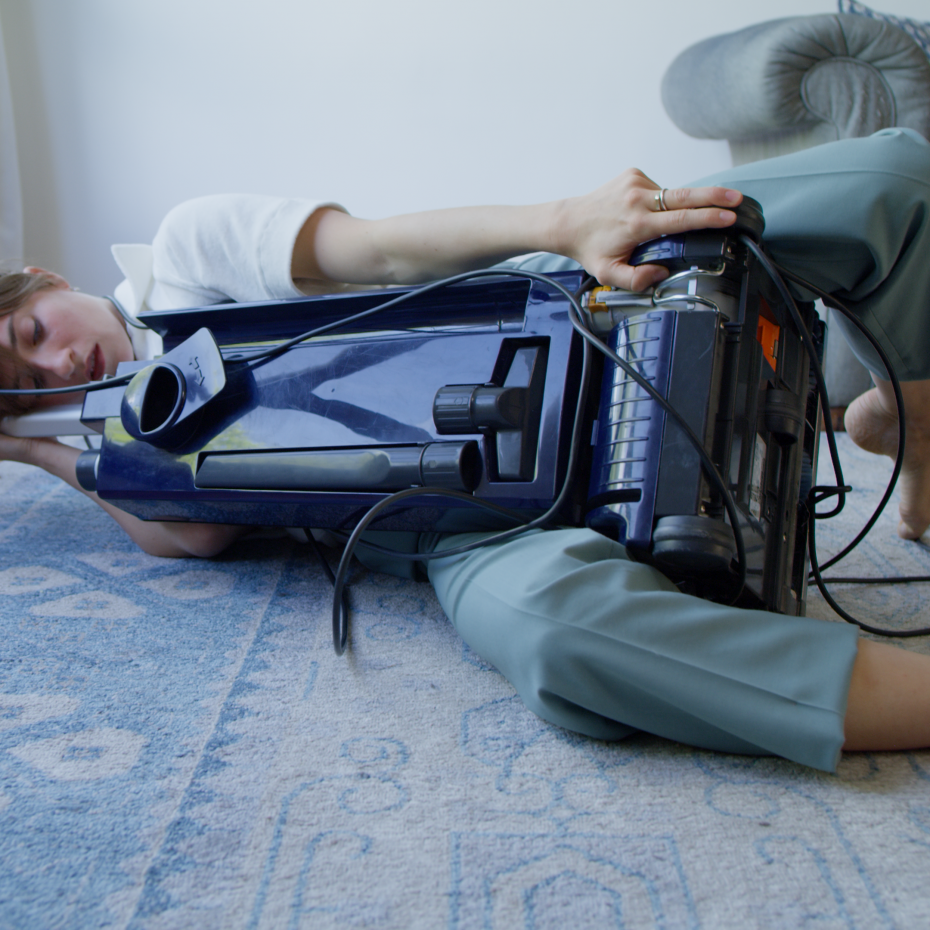 Feeling Thing by Jo Bannon
Feeling Thing by Jo Bannon
Thu 10 Feb – Thu 24 Mar 2022
Sadler's Wells, Online
Feeling Thing invites us to pay attention to the objects around us and experience them as the dancing, feeling things they are. This new film by multi-disciplinary artist Jo Bannon features three intimate duets between object and performer, with ASMR sound inviting us into an uncanny space where all things are alive.
Matter is lively. If you play the right frequency to your kitchen table, it will explode. You may not have noticed, but your iron has a certain swagger as it glides over polyester. Those of us with the lived experience of disability may already know something of this potential intimacy, this strange kinship, as we dance the daily duet between our bodies and the people, objects and technologies that support us.
In Feeling Thing, the camera captures three intimate duets between object and performer. The ASMR sound encourages us to listen closely and sense the life in them, inviting us to lean into feeling as a sensory, illogical, uncanny space where all things are alive.
Candoco is a world-leading dance company interested in expanding perceptions of what dance can be. The company celebrates different ways of seeing, of being and of making art, putting them at the forefront of conversation around dance and disability.
Feeling Thing is a co-production with Jo Bannon, a UK based artist working in performance, choreography and live art. Her work is concerned with identity, sensory perception, and human encounter and explores how our physical bodies experience the world around us and how this sensory experience can or cannot be conveyed. Her work is informed by her identity as a disabled woman with albinism and attempts to unpick the ways we look, hear and sense our immediate environment in order to rethink or make unfamiliar these intrinsic human behaviours.
Feeling Thing is available with audio description and closed captions.
What is ASMR?
ASMR stands for Autonomous Sensory Meridian Response. It's the name given to the pleasant tingling and often relaxing sensation that people can experience through the back of their head and spine when they hear or experience something that stimulates them to feel this way. What causes this response varies from person to person, but there are many popular ASMR triggers which include whispering, hair brushing, scratching and tapping.
Credits
Feeling Thing is a Candoco Dance Company & Jo Bannon co-production
Dancers – Anna Seymour, Ihsaan DeBanya, Olivia Edginton
Director & Choreographer – Jo Bannon
Co-Director, Camera & Editor – John Stephenson
Assistant Director – Charlotte Darbyshire
Producer – Ellie Douglas-Allan
Assistant Producer – Georgia Kersh
Director of Photography & Colourist – Jack Offord
First Assistant Camera – Bethany Fitter
Sound Designer – Julie Rose Bower
Sound Recordist & Mixer – Rob Hart
Production Manager & Gaffer – Phil Webb
Best Boy – Gravity Randall
Access Consultancy – Quiplash
Audio Description – Dot Alma
Captions – Julie Rose Bower & John Stephenson
Special Thanks to Jules and Mani Maxwell, Philipa and Matthew Stephenson, Cinewest, Rebecca Pierce, Mike Stoner, Harri McKenzie-Donavan, Laura Goulden and Sandy Deo.
Funded by Candoco Dance Company and Arts Council England