Between The National and The Bristol
By Siobhan Davies
1994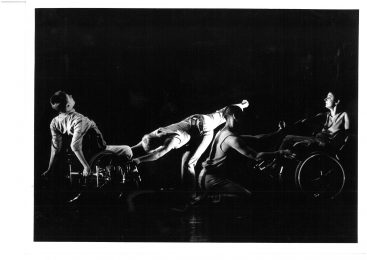 Between The National And The Bristol 1994. Choreography by Siobhan Davies.
In her first encounter with Candoco Siobhan Davies plays with forming and reforming the company. She uses the qualities of movement to show the change of balance that can occur as one person shifts from moving alone, to being part of a group or aligning themselves to a particular person. It is in these small changes that davies draws out subtle and telling details.
Made possible by the generosity of the Welkunst Foundation.
Production details
Choreographer
Siobhan Davies
Music
'Between the national and The Bristol' by Gavin Bryars, performed by The Smith Quartet
Costumes
realised and made by Elizabeth Baker
Dancers
Helen Baggett, Charlotte Darbyshire, Celeste Dandeker, Jon French, Lea Parkinson, Kudlip Singh-Barmi, Sue Smith and David Toole