Back to Front With Side Shows
By Emilyn Claid
1993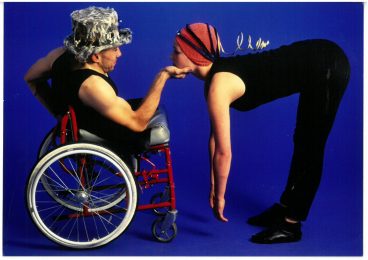 Back to Front With Side Shows 1993. Choreography by Emilyn Claid.
Movement and images in this piece arose through improvisation and conversation and a desire to move fast. There is no story or definitive meaning, rather it is a piece that expresses the moods of the time we spent together and members of the audience are free to interpret it in their own way.
Emilyn Claid- Biography:
Emilyn Claid performed with the National Ballet School of Canada and with the Martha Graham Company in New York. She was a founder member of X6 Dance space, a collective group of five dance artists, who initiated and developed fundamental aspects of the New Dance movement in the UK. She was a founder member and editor of New Dance magazine. She was Artistic Director of Extemporary Dance Theatre for eight years and has choreographed for many companies such as: Ludus dance company, Hairy Marys Dance Company, Hong Kong COntemporary Dance Company, Dance South West and Maqamat Dance Theatre. Claid has Ma in Performing arts from Middlesex University as well as a PhD in Choreography/ Performance from the University of Surrey. Other qualifications include an MSc in Gestalt Psychotherapy and a diploma in Supervision. Emilyn Claid is currently a Professor of Choreographic Practices at Roehampton University. 
Production details
Director/ Maker
Emilyn Claid
Devised by the performers
Helen Bagget, Charlotte Darbyshire, Victoria Fisher, Jon French, Kudlip Singh-Barmi, Sue Smith & David Toole
Hat maker & decorator
Sherrie Scott