Paulina Porwollik
Candoco Teaching Artist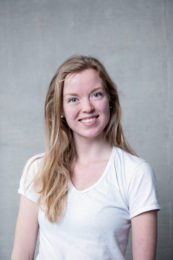 Paulina Porwollik is originally from Hamburg, Germany. She has been working as a professional contemporary dancer for several years in the UK and throughout Europe.
At the present time she is employed by Candoco Dance Company and Unusual Symptoms at Theatre Bremen in Germany. The most recent productions she has been involved in, were 4×10 by Osian Meilir Ioan for National Dance Company Wales in Cardiff in August 2023 and the collaboration between Candoco and Esplanade – Theatres by the Bay choreographing together with Ben Ash for the festival A Space for Every Body in April 2023 in Singapore. Furthermore, she has been recently performing in the creation of Moving Clouds for Scottish Dance Theatre in January 2023 in Glasgow and the work HARMONIA by Adrienn Hód, that has been on tour throughout Europe since February 2022 with the company Unusual Symptoms.
Moreover, Paulina has been performing in the opera The Lost Thing for Candoco Dance Company at the Royal Opera House in London, in several productions for Jo Fong in London and smaller independent projects, including film and video productions as well as  several academic research projects. She has been teaching dance and movement classes for Candoco Dance Company, the National Paralympic Heritage Trust and the dance conservatoire, Northern School of Contemporary Dance in Leeds, UK.
She moved to the UK in 2016 to do her Bachelor and Master's Degree in Contemporary Dance Performance at Northern School of Contemporary Dance in Leeds.
In addition, she is currently completing her Master's Degree in Psychology with Northumbria University in Newcastle and working as a Student Life Specialist at Roehampton University.