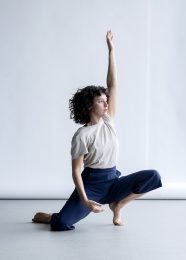 Anna moved to London in 2020 to join Candoco, after being based in Melbourne for 14 years.
Having graduated with a BA in Dance from Deakin University, Anna has worked as a freelance dance artist, actress, teacher and producer.  She is a proud Deaf woman and communicates in Auslan, BSL and English. She has a passion for her community, culture and language.
As a dancer, Anna has worked with a range of companies and choreographers including Ballet Lab, KAGE and Stephanie Lake as well as choreographing her own work (Distraction Society, SPIN, Mini SPIN and Skin). Anna also co-founded The Delta Project, a dance collective of Deaf and hearing performers based in Melbourne.
Anna has also worked as an actress for TV (ABC's Get Krack!n), film (Volatilis) and theatre (Deafferent Theatre) and has assisted with script developments.
She has spent time in residence in New York (OMI), Berlin (Arts Access Australia), Hobart (SITUATE) and Melbourne (Chunky Move and Lucy Guerin Inc) working on her choreographic research interests.
Anna worked as Assistant Producer for the 2019 Melbourne Fringe Festival and is regularly involved as a presenter on panels and teacher of movement workshops in Deaf and arts communities.
Anna is excited to be part of Candoco and is looking forward to working on new creations as well as performing the company's existing work.
Anna describes herself as follows: Anna has dark brown curly hair just above her shoulders with a fringe, brown eyes, fair skin with freckles, a nose ring and has a petite frame.