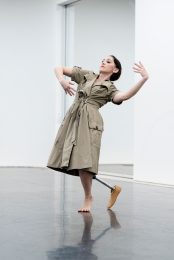 Mickaella Dantas is a Brazilian dancer who moved from Portugal to the UK to become a member of Candoco.
Mickaella joined Candoco for the creation of Face In by Yasmeen Godder in 2017 and as a company dancer she has performed work by Hetain Patel, Alexander Whitley, Eun-Me Ahn and Arlene Phillips.
She trained on the Programme for Choreographic Composition of Forum Dance. As a dancer, she has worked with Grupo Dançando com a Diferença, Candoco Dance Company at Unlimited Festival London 2012, Radar 360º, Carla Vendramin, Paulo Ribeiro and Clara Andermatt, with whom she has worked collaboratively since 2012. Under the direction of Ana Borralho and João Galante, Mickaella was an artistic team member of ATLAS. She also performed as a tap dancer in the Channel 4 short film We're Superhumans directed by Dougal Wilson for the 2016 Rio de Janeiro Olympics.
With her experience in artistic production, Mickaella has contributed to several accessible arts debates, including Access to the Arts – a Management Issue? by the British Council's Access Culture initiative.
She currently devotes her time to researching a personal project, Frankenstein Experiment – Investigation on Biomechanic Bodies, training on circus trapeze, and her own dance creations.
My creative work in contemporary and inclusive dance follows a persistent idea – there is a power to acting in any living body and my body is the place where I want to stay…in action.