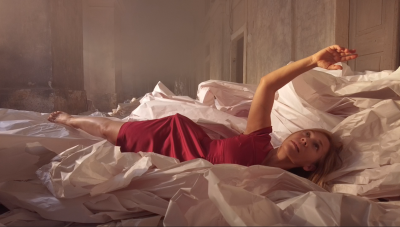 Markéta Stránská is a choreographer, dancer and physiotherapist from the Czech Republic, she joined Candoco's main company in late 2021.
Markéta has a long artistic history with folk dance and puppeteering. While studying physiotherapy at university, she began working as a health clown in East Bohemian hospitals.
Since 2012, Markéta has been active in the contemporary dance scene across Europe.
In 2016, she was nominated for the 'Dancer of the Year' award by the international jury of the Czech Dance Platform festival for her performance in Absent (Jaro Viňarský and VerTeDance, 2015). 
She successfully premiered her choreographed dance solo debut, FLY! in September 2018. The performance has been performed numerous times within the Czech Republic, Slovakia, Germany, Russia, France, Hungary, Poland and Croatia. She has since continued developing her practice through various workshops, artistic residencies and leading choreographic research.
Markéta has a keen interest in exploring the idea of the space we take, as well as balance in general. She takes inspiration from the pedestrian moments in life and enjoys playing with the boundaries of comfort and stability.
She describes herself as a rather short woman with dark blonde, mid-length hair, who walks with one leg, one prosthetic leg and two crutches.