Maiya Leeke
Apprentice Dancer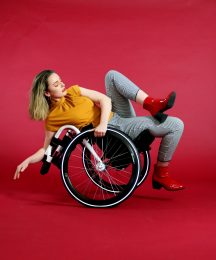 Maiya is a contemporary dancer, teacher, and jazz musician.
With an initial musical background, Maiya grew up playing Baritone Saxophone in Lancashire Youth Jazz Orchestra further gaining Grade 8 Jazz Alto Saxophone and Grade 7 Flute. She then found her love for Contemporary Dance and began to consider the relationship in herself between her own music and movement.
Maiya trained predominantly with Hawk Dance Theatre before joining National Youth Dance Company (2020/21) working with Alesandra Seutin. She is currently on placement with Candoco from Northern School of Contemporary Dance where she is gaining her masters in Contemporary Dance Performance.
Outside of her training, Maiya is an Associate Artist at Mind the Gap where she teaches regularly. Maiya has also taught and performed for Joss Arnott Dance in PULSE! 2.0 (2020) and further worked on DANCE:CONNECTS- PULSE! 2.0 (2021). She is also currently working with Mimbre Acrobats and Daryl Beeton Productions on the development of an acrobatic theatre show, 'Look Mum, No Hands!'.
Most recently Maiya had a residency at Sadler's Wells (2021) with Adam Benjamin, exploring how her non-verbal sounds can enhance the communication and understanding of her practice. She is fascinated how the unique gifts of her disability unlock knowledge, ways of communicating, and her distinctive movement vocabulary to enhance the development of her own personal artistic practice.
Maiya has a great love for Candoco and is excited to be joining the company until Summer 2022.
Maiya describes herself as a white female, in her mid-20's, with brown and blonde shoulder length hair. She is more commonly found flipping her wheelchair upside down and communicates via a speaking device, named Samantha!