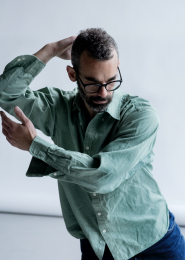 Ben's choreographic practice has a particular focus on the relationship between the human form, sculpture and site.
For over 25 years Ben has worked as an independent performer, teacher and choreographer, performing in works by Rosemary Butcher, Charles Linehan, Rosemary Lee, Richard Alston, Siobhan Davies, Wayne McGregor, Wally Cardona and Charlotte Spencer Projects.
Ben is a co-artistic director of Dog Kennel Hill Project with Rachel Lopez de la Nieta and Henrietta Hale.  Founded in 2004, they develop investigative projects to specific contexts or communities including theatres, galleries, screenworks, and non-traditional or outdoor sites.  In 2018 Dog Kennel Hill Project were invited to collaborate with Candoco for their international research Laboratory where they began the research of two works; Wayfaring Encounters and Messages from the field.
Alongside his activity in dance, Ben is also a teacher of Biodynamic Craniosacral therapy and has a private Craniosacral practice in the UK.
Ben is curious to keep asking questions about how form, movement, gesture and action meet and inform one another, how they support a 'felt' relational exchange, and how this can become a resource for engaging the creative process and practice of performance.