Anastasia Sheldon
Work Based Learner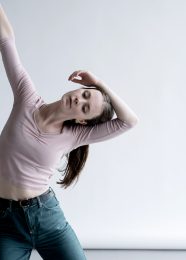 Anastasia graduated from Northern School of Contemporary Dance (NSCD) in Summer 2020.
Her Professional Placement at Candoco forms part of the MA course she is now undertaking at NSCD.  She is greatly looking forward to working with them through their creation period with Jeanine Durning and for the re-staging of Set and Reset/Reset and Face In.
During her training at NSCD she has had the pleasure of collaborating with and performing works by The Hiccup Project, Amaury Lebrun, Eleanor Sikorski and Fernanda Prata. Over the past three years she has enjoyed exploring different performance arrangements, creating works with peers and developing her own artistic practice, whatever that may be.
Anastasia believes that dance should be made as accessible, inclusive and open as possible. She believes we all inform each other and one way to develop as artists and people is by encouraging a continuous conversation about interests, experiences and expectations.
Anastasia describes herself as follows: Anastasia is fair skinned with blue eyes. Her long brown hair swishes in time with her long limbs.